Residential Pressure Washing Services In Bathurst & The Acadian Peninsula.
We can remove years of dirt, mold, pollen, and other airborne pollutants on the outside of your home by using hot high pressure water. We can also remove paint, cobwebs, moss and stains. No preparation is required as we will remove furniture and other items near the area that needs to be tended.  Among our residential specializations are:
Bathurst Exterior Building Cleaning
House, Foundation, Patio, Driveways & More…
If you are thinking of selling your home, or just want to be the envy of your neighbors at an affordable price, consider having your house or business washed by Pressure Kleen Mobile Wash. We will leave it sparking! We can restore your wood deck or patio, sidewalks (pathway), entryways and driveways. Don't forget your pool area and pavers, your awnings, garage floor and roof! We recommend the outside cleaning in the spring, summer or fall of every one to three years for curb appeal. If it's made of concrete, vinyl and CanExel, wood (painted or natural), brick or stone, fibreglass or aluminum and stainless steel, we can clean it.
Gutter Cleaning & Whitening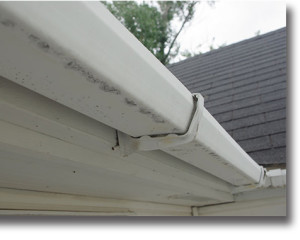 Build up in your gutter can lead to poor drainage, and ultimately may lead to water seeping under your roof and cause damage. As a preventive measure, or to unclog your gutter, Pressure Kleen will remove debris, pressure wash the gutters and downspouts. We can also take care of the outside of your gutters, restoring its shine. We recommend this cleaning in the late spring and late fall to keep everything functional and for maintenance.
We are proud to offer our GUTTER CARE PROGRAM. Let the professionals at Pressure Kleen Mobile Wash keep your gutters free and clear of debris and looking their best.
Roof  Washing & Cleaning
The roofing of a house is one of the easiest areas of a home to get dirty and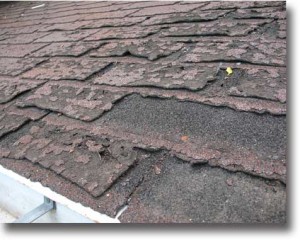 stained. Did you know that the black stains are actually a form of mold? That's right, it's a type of mold that if left ignored will not only be an eyesore to onlookers but may cause the shingles or roofing to deteriorate more quickly.
Another issue faced by some home owners is that some insurance companies have begun cancelling home owners insurance if they don't fix this issue.
Avoid the headaches and let the professionals at Pressure Kleen Mobile Wash remove it before you run into any problems.
Boat hull & RV Cleaning
To keep your recreational vehicles clean, we can remove water line, rust, scum line, algae, scale, chalking and light oxidation on boat hulls. We can also remove yellowing, light oxidation and chalking from RV exteriors.
Bathurst Interior Building Cleaning
We can inspect, unclog, map and thaw your pipes and drainage system.  Some blockages are due to our cold winters and poor insulation.  Others develop over time.  They can both result in bad odors in your home or make daily activities such as showering, cleaning dishes and washing clothes impossible.  
Pipe Thawing
If the clog is due to our cold winter, and your pipe froze, do not use unsafe methods of thawing! We have professional line thawing equipment, used with hot high pressure water to safely and quickly remedy to the situation.
Drain Tile
Weather is unpredictable.  Heavy rains and spring snowmelt can flood your basement without notice when you're not prepared and your drain tile system is not up to par. Let Pressure Kleen Mobile Wash confirm that your home irrigation system is working properly and is leading the ground water away from your home.  If not, we will be able to make a few recommendations!
Drain Flushing & Cleaning
One clog can impact many drains and appliances.  Many things such as broken or collapsed pipes, tree roots, toilet paper, paper towel, soap, sanitary cleansing towels, grease, hair, coffee grains, and leftover food from your dishes can clog your drain pipes.
So whether it's the drainage system in your kitchen (sink/garburator, dishwasher), bathroom (bathtub, shower or your toilet) or your washer, call us, we can fix it.
Maintenance of the drains of your house may prevent clogging of the pipe system. For example, using a drain cleaning product when no backup is present and putting steel mesh in your sinks and bathtub can slow down the build up of debris.
Despite your best efforts at maintaining your home or business, the toilets may back up and basement floor drains could overflow. Call Pressure Kleen, we have the proper drain cleaning tools and years of experience to guarantee a quick, clean and effective fix. We will even make recommendations should this be a recurring problem in your home or business.
Videoscoping Inspection
In order to find a permanent solution to your problem, and not just a quick fix, Pressure Kleen can inspect the inside condition of the inaccessible underground drain pipes around your house or business. We will capture an image of the pipe from your home to the city connection or septic tank. This is done in real time and with digital video recording capabilities to identify and locate the problem for insurance purposes and for the right solution and recommendations.
Check the specific nature of the clog (or damage)
Confirm the location of the clog (or damage)
Determine the types and the condition of your pipes
Check condition of your sewer systems
Locate water, sewer line, septic tank and septic field